Carbide Roll Rings

Description
Carbide roll rings refer to installing a series of rotary roll surface through bearings on the arc core shaft, so as to achieve flattening effect. These carbide rollers are stationary and the rubber sleeve can revolve. The carbide roll rings are used for processing equipment of plastic film, paper, textile and similar products, or sometimes used for the positions that other guide rollers can not be installed. We provide you high quality carbide rollers and composite rolls for rolling wire rods, rebars and merchant bars.
Our Advantages
1. Compared with other carbide roll rings manufacturers, we possess homemade grade. We can also develop new brands according to the production requirements of customers.
2. With complete set of roll moulds, our carbide rollers are extensively used for Chinese markets.
3. Our carbide roll rings can be processed according to the customer's drawings.
4. We offer you a wide variety of standard grades to satisfy every application request.
Size Range
External diameter ranges from 145 mm to 380 mm, while the height is between 30 mm and 130 mm.
Parameters of Carbide Roll Rings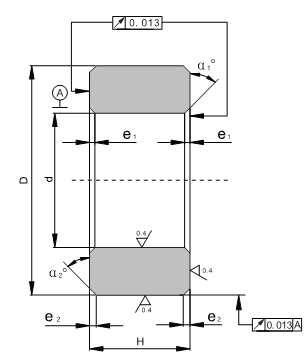 Notes
When you make an inquiry about carbide rollers, you should tell us the application, grade and performance requirements.
Delivery Date
The delivery time of the carbide roll rings with mould is 15 days, without mould is 25 days.
Packaging and Payment
1. The carbide rollers can adopt standard packing or neutral packing.
2. You can pay for our carbide roll rings by telegraphic transfer and letter of credit.

As a professional carbide rollers manufacturer and supplier in China, we mainly have carbide roll rings, groove rollers and thread rolls for sale. Last year, the annual income is 35 million, which includes 20 million export revenue and 15 million home sales. Lizhou Company carries out IEP management system to assure every product is examined strictly. We have passed ISO90012000 International Quality System Certification in 2003. If you want more information about our carbide roll rings, please contact us directly.
Related Products
Tungsten carbide rollers possess resistance to thermal cracks and corrosion due to adding nickel and chromium in the binder ...
Cemented carbide rolls belong to thread rolls. The high-speed wire generally refers to high speed ...